I have been in major build mode this week. I have stepped away from the sewing machine, and have been trying my hand at power tools. I have had so much fun, and I LOVE that my husband keeps a well stocked garage:o)
I have had this table in the attic for about two years. I purchased it from a local yard sale page for $5. It was an awkward sort of table and very dated, but when inexpensive furniture presents itself to me, I buy immediately and ask questions later...it's not always the best approach, but my approach, nonetheless;o)
A couple of nights ago, we were all in the playroom building LEGO scenes, and that's when the idea struck me that E needed a LEGO table.
And, so it was.
This was the before..a very dated, very drab piece of furniture.
I used a jig saw to cut out the top....very LOUD, I might add...and, no I was not wearing any ear protection.
It was a hot and humid day, so the red spray paint didn't want to dry. I had to spray a coat, and then bring it inside between coats. My house smelled delightful...NOT! If you follow along on Facebook, you got to see what red over spray will do to blonde hair. I'm happy to report that Dawn dish washing liquid stripped the paint right out of my hair, thankfully!!
I found the LEGO plate at Target for $14.99. The plate was attached to the base of the table with liquid nails, and trimmed out with quarter round.
I'm so happy with the end result, and so is E.
Now it's the perfect little end table.
And if you're wondering...those are marker lines on the side of the couch...it's a playroom..anything goes, or so it would seem:o)
Participating here:
Lady Behind the Curtain
Craftionary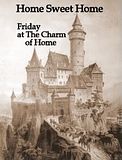 Featured: